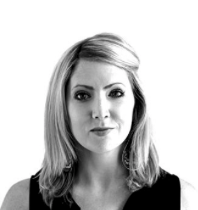 I am a freelance senior creative designer and consultant with an energetic and passionate approach and a particular passion for visual identities and brand development. 
I have over 15 years experience, working across a wide range of sectors and with a breadth of great clients, from dynamic start ups to big brands including Flybe, University of Plymouth, The National Trust, Heineken, HSBC and the NHS. 
I work happily across the whole spectrum of creative disciplines from print to digital including: 
Branding     •   Packaging  •   Art direction  •   Experiential  •   Copywriting  
•   Illustration  •   Website Design  •  Animation  •   OOH  •   Exhibition Design  •   Film  •   Radio  •   Interiors  •   Social media assets
I love that no day is ever the same and that each brings with it a new challenge.
I have a passion for food and drink and love being outside when I get a chance, be that running on the local beach or out on the golf course!
I am an ideas driven creative, who often starts out with good old fashioned pencil and paper, but can move between the Adobe creative suite programs with ease to best implement the task at hand. I have excellent working knowledge of InDesign, Illustrator, Photoshop and XD as well as the usual office and project management tools. 
I love working in creative teams, I find that I'm easily adaptable and more than happy to present and pitch ideas to clients and colleagues.
I believe the best testament to my approach and my work are the views of the people I have worked with along the way so here are a few:
"Hannah is by far the BEST designer I have ever worked with. I have worked with many London agencies, but Hannah and all at ab are head and shoulders above these. Hannah is knowledgeable, detailed driven, easy to work with, friendly and above all, a passionate expert in her field. I cannot recommend Hannah and her design expertise enough."
Adam Clarke - Leading Ancillary Product Strategy - British Airways
"Hannah is a bright, passionate and very talented designer. With a friendly approach, she gets to know her clients and their customers to create beautiful designs. She is superbly organised and nothing is too much trouble. Not only is Hannah able to create, she will turn her hand to other tasks when needed. From liaising with suppliers, helping to organising events and presenting ideas to clients, she can turn her hand to anything. With a sense of humour and creative mind, working with Hannah is a pleasure. That is why is she is so highly recommended in the agency!"
Elaine Wood - eCRM Manager - Manchester City Football Club
"Hannah was retained as part of a team which undertook a rebranding project for one of my clients, Her work was outstanding; imaginative, thoughtful and clever. The overall project has since been shortlisted for an industry marketing award - a suitable accolade reflecting Hannah's input."
Susie Hudson - Marketing Strategist - Freelance for SITU
"I worked closely with Hannah at Flybe while she delivered a range of creative and experiential campaigns that supported the re-branding of the airline. I've found Hannah to be helpful, easy to work with an very knowledgeable. I'd have no hesitation in recommending Hannah"
Martin Smith - Interim Marketing Director - Universal Parks & Resorts
"Hannah is an exceptional designer, her work is of the highest quality. Some of her designs are the best brand and product ideas that I have ever seen. Hannah listens intently to the clients requirements and their customers needs and then creates imaginative work that often makes you think first time round 'thats it.'."  
Ann Holman - Customer/Digital Consultant - PwC UK
"Hannah is a very rare find indeed. She is more than happy moving between creative writing and conceptual work, into artistic and technical excellence. She is able to bring her infectious personality to any project and can make the toughest of creative challenges a pleasure to work on. I can count on one hand the people I would follow into any project and Hannah is one of those people."
Ted Thorpe - Director, designer and animator - Ted Design Ltd
2001 - 2004  / 

BA Hons Graphic Communication with Typography 

/  Plymouth University
Jan 2017 - Present  / 

Freelance Creative Designer & Consultant 

/  Hannah Stephens Creative
Oct 2013 - Dec 2017  / 

Senior Designer

  /  AB...the ideas agency
Sept 2006 - Oct 2013  /

Senior Designer & Studio Manager

  /  Toucan Graphic Design
April 2006 - Sept 2006  / 

Graphic Designer

  /  David & Charles Publishing
Jun 2004 - Apr 2006  / 

Senior Creative

  /  Westcountry Publications
If you would like to discuss an upcoming project or you need a creative solution do get in touch, I look forward to working with you.